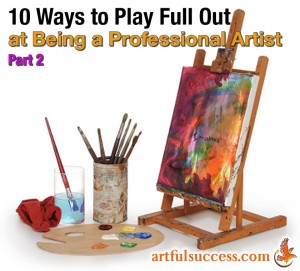 Are you playing full out or just dabbling in your art?
It's okay to just be playing. Nothing wrong with that. Maybe you've got another job that pays the bills, or you are retired and you create for fun.
Being a full-time professional artist can, at times, not be fun. It does have it's ups and downs. That is, until you find that formula for success. It can be full of trial, experimentation and lessons!
However, if this is your livelihood or you are trying to establish yourself as a professional artist… what's preventing you from playing full out?
10 Ways to Play Full Out at Being a Professional Artist
Banish Drains
Get Organized and Be Efficient

Stay Focused and Be Productive

Have a Strong Voice & Brand

Know Your Ideal Client
Set a Price That is Brand Ideal
Know Your Bottom Line & Forecast Your Profits
Spiderweb Your Marketing
Strategize Your Campaigns
Implement Visual Marketing
3) Stay Focused and Be Productive
Webster says "psychological studies of highly creative people have shown that many have a strong interest in apparent disorder, contradiction, and imbalance, which seem to be perceived as challenges."
We may seem to be disorganized, unfocused, and distracted, because we are! We get ideas. Tons of them!
Ideas are distracting, invigorating, exasperating and full of our passion!
Which passionate idea do we pick first to work on and complete?
We might start working on one idea and get distracted by another and then go work on that for awhile. We lose track of time and before you know it, the day has passed by and nothing is completed.
Not to mention that we probably have 5 projects going at once and then we're off doing something else. Does this sound familiar?
Do you have a bunch of unfinished projects or do you know you need to get your sales tax filed but now they are past due and you still haven't started on them because you got distracted doing too many other things?
Focus and productivity is key! Key to not only being successful but also feeling successful. When things are completed we get a sense of resolution within us. It's a sense of accomplishment that makes us strive to complete the next goal.
"I did it" is powerful!
So how do you take that time and energy and focus it like a magnifying glass?
First try separating out your goals. What's your 3 biggest priority goals? The rest will need to go on the back burner until these goals are completed.
Next is managing your self in the time you have allotted. There are 8 work hours in the day, give or take. Being able to take that time and batch it in a way that allows you to make the most of that time in a focused manner is going to be key.
I live by batching and a timer or I would never get half the things done that I do.
4) Have a Strong Voice & Brand
There are thousands of products available. In fact there are thousands of people in every profession as well.
What makes one product stand out so that you purchase that particular product? What makes you select one service provider versus another?
Why do certain artists get opportunities, like great booth spaces, or being published in a magazine, invited to be in shows, teach at stores, etc while another can barely sell 2 or 3 pieces a month on Etsy?
It's not only about creating a great product or providing a great service, that's a given. It's about finding a way to stand out so you can be seen, be heard and be remembered™.
That starts with clarity of your voice, of who you are and who you serve. That includes understanding who your ideal customer is, where you can find them, what they like to buy and at what price point.
Then develop your voice so clearly that it stands out and people know that it's your work. When they hear your name they "see" a visual of you or your work. When they see your ad they have an emotional connection.
Have you heard that saying that "you can't be everything to everyone"? Well this includes what you offer others through your brand. People get to know brands (which include products and services) because they have a clear memory or recollection of what it is that you offer. It connected with them, they saw it, and they remember it.
If you do a lot of different things, no one can remember that.
The brand experience (the experiential process that a client takes from first introduction through completion of use) needs to be represented clearly as a visual and as a an experience that will best represent your brand identity.
You've probably heard the other saying "You need to pick a horse and ride it". Ride it well and the best that anyone can. Polish your showmanship and make the performance perfect. Then once you start to be known for that thing you do, you have a following and you are established, you can begin to add to your repertoire of other offerings.
Until then, if you confuse em, you lose em. So it might sound difficult to pick just one horse to ride or to focus your skills on one offering, but it's far more difficult to struggle for years doing it your way but never connecting with your ideal clients.
There is a definition of insanity (by Einstein). It's "doing the same thing over and over and expecting different results". So is it time you try something new to play full out as a professional artist?
I would really love to hear from you. Please leave me a comment and let's connect!
Leave me a comment and be entered to win a drink on me at Starbucks and a free book from Lark Books!
I'll pick the winner end of August. All comments get an entry between now and the beginning of August.
Share it on FB or Twitter and get 2 entries each as well!
Make sure to tag your posts so we see them!
**I pay for shipping to any of the 48 contiguous states.