Raves about Tonya Davidson and Artful Success
Suzanne Tipton Offner
Tonya Davidson is Da Bomb!
She keeps her company so well informed and so connected that she KNOWS how to use the newest, hottest, bleeding-edge technology and trends to produce sales and convert shoppers into buyers. She is never content with surface appearances and digs deep to truly understand what works and why.
She can also sort the wheat from the chaff, and can tell you which trends to watch and which ones to ignore.
Finally, she can see and hear what you're trying to create for your business and give you brilliant ideas on how to package and present it so everyone else can see your brilliance too.
I bring my clients to Tonya because I wouldn't trust their time, money and hopes to anyone else.
Rebecca Skeele
Much More Than I Expected.
When I contracted Tonya Davidson's team to run the back end of my business I received much more than I expected. I found the service to be prompt, professional and very thorough.
They went out of their way to make sure I was happy, and my expectations were met.
Highly recommend Tonya Davidson and her Artful Success Program.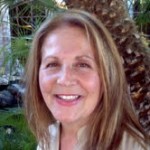 Dr. Dorit Susan Ilani
Rarely does one come across a true professional like Tonya's company, Artful Success. I hired Tonya after I had a very bad experience with another company.
I was looking for a web designer who is drama-free, efficient, know what they are doing, listen and critically… also do it very fast to make up for the lost time. I was about to leave the country to teach a workshop without the signup site for it and needed it done quickly and in Hebrew.
Tonya's team was all that, plus. They were truly masterful at creating a site fast. Within a few days it was all done and it was a pleasure to work with them. The "plus" is that when you ask the team at Artful Success a question or to do something, they don't just give you the fish, they teach you how fish.
I have since edited my site painlessly twice in a few minutes, simply by following their visual, step-by-step tutorials that they provide. I couldn't recommend them more highly. If you are looking for the best, look no further.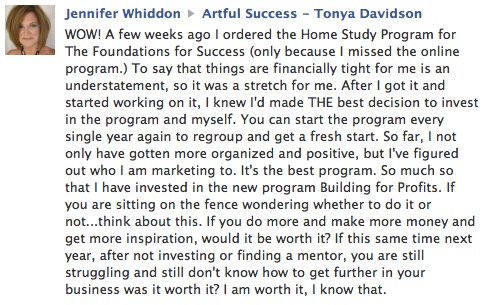 Pam Hurst
I was very hesitant to start this program as I have completed some similar programs and was expecting it to be repetitive to what I had already learned.
In just the first week I was making changes in my business that were showing results.
After finishing the Artful Success program, I was able to strategically plan exactly where I wanted my art and business to go.
The program gave me the skills to know what and how to change the things I was doing.
The program also allowed things that were more abstract to become much more clear. For example: the fine details of how to set up your website, what to put in it, what NOT to put in it, colors, etc.
And mostly, the willingness of Tonya to be so supportive and helpful, sharing her knowledge and resources.
After making a few changes, I have at least doubled my prior income and doors keep opening up for me, sometimes without even trying.
This was the best investment in my business I have made to date.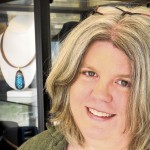 Cristine Grimm
I recently completed Tonya Davidson's "Foundations for Artful Success" program. There's no way to express how much I gained from the program.
Let me just say that it was a financial stretch and felt extremely selfish, but I'm very glad I spent the money. Tonya delivered far more than I imagined, and I'm still learning from recordings that will stay in my library forever. Thank goodness, because there was so much quality information it may take me a while to implement.
I've taken online courses presented by other coaches, but I've never experienced anything like this. The sheer quantity and detail of the information was enough to fill multiple notebooks, plus she added information, opportunities, and resources through the forum interaction and the Facebook page.

Photo Courtesy of blinkPHOTO
It was amazing – and it was all done with a quality and authentic voice that I really appreciated. The forum interaction with other artists in the program was an unexpected benefit easily worth as much as the program itself.
When I paid for the first class, it never occurred to me that I'd sign up for the second, but I did. The day I signed up, I was thinking a lot about a Neale David Walsh quote saying "Life begins at the end of your comfort zone". How might it feel to do just that, and how might it change my life and that of my family?
I didn't know the course content when I hit the "Buy" button, but I had a strong feeling that it was the right thing to do. I went to sleep feeling nervous and sick to my stomach… I was way beyond the edge of my comfort zone! Luckily the free call proved to me that I made the right decision. I'm still nervous, but it's not about the money spent, it's about whether or not I'll live up to the quality of information and help that Tonya provides. It's truly that good.
Stephanie Maben
When I signed up for Artful Success, all I was expecting was some motivation and general, generic hints on how to improve my business. What I got was life-changing. Tonya's holistic approach has affected every phase of my life in a positive way, not just my business.
The lectures and exercises from the program have helped me gain mental clarity for the first time ever on what I want from my business. Artful Success provided me with a blueprint, a plan, on how to still be very successful while working at my passion part-time. And not just a plan, but the detailed specifics on how to achieve my success, including pricing strategies, website design, color influences, how to navigate and use social media, and SO much more.
So not only are my business and sales improving, but I am happier, more creative, more productive, and yes, even healthier. I have gained more knowledge from the Artful Success program than any graduate or undergraduate class I have ever taken. That is why I am taking it again!
Sherrie Brittig
Not long after I had decided to leave my day job to start my own jewelry business, I received notice of a new program, Artful Success, being offered by Tonya Davidson. I hesitated to sign up at first, but decided it would be a worthwhile investment. Am I glad I did!
This program literally walked me through setting up my own business – from setting goals to building good habits to pricing work to website design and use of social media to engage customers. Tonya includes great practical tools to bring focus and clarity, and to help us plan and assess. She is a very caring and giving mentor, and has valuable insight stemming from her own experience as a successful business owner.
Just a few weeks after launching my website, I made my first sale! Within a few short months of completing the Artful Success program, I had established my business and was filling orders for my work. I'm looking forward to increased productivity and sales this year as I continue with the foundations I learned from Tonya!
Barbara Davis
Artful Success has been more than a call to action.
It has been an awakening of both possibility and determination – a very powerful combination.
With the tools from the early weeks, I have laid down a foundation of systems that will allow me to use the upcoming information to define my customer, establish my brand, and reach out confidently.
But, I'm not just waiting.
I'm working. I've been wrapped up in new ideas and new pieces. It's fabulous.
Thank you.