Do you love magazines? Do you have an inspiration board (corkboard where you have pretty pictures tacked up)? Do you have tear pages from magazines which you just can't seem to get organized to enjoy?
I happen to love visual images! They inspire me, they invigorate my mind, and they also let me dream. I dream about pieces I want to create, materials I want to work with, places I want to go, things I want to experience, etc. 

This is exactly what Pinterest is! It is a visual Facebook! It's a lot of fun! Plus it's great for your branding.
How Can I Get Onto the Pinterest Site?
Currently, you can go to www.pinterest.com and apply for an invite or you can email me at tonya@tonyadavidson.com and I'll invite you! It's faster if you are invited by someone already on Pinterest.
Once I Get There, What's the Next Step?
The first thing you'll want to do is set up your Profile Page.
Click "Profile" and enter your "email", "first" and "last name". Then when it asks you for your "username" , I recommend that you use your name as the username. This is what shows up in the url for all your marketing and linking to sites. For example my Pinterest url is http://pinterest.com/tonyadavidson/. If this is taken, try variations of your name.
Next you'll need to fill out the "About" which is your Passion Statement. Keep it fun and succinct.
Then you'll add your "location", "website", and your "picture". Artists please get a professional photo of you taken and use this for your avatar. You are your business and people want to connect with you. It's that know, trust, like factor. The picture should be kept current. This way if you go to an event, you'll connect with people so much easier!
It will then ask you if you want to "Link to Facebook" and "Add Pinterest to Facebook Timeline". I recommend yes to both, however I'm just testing this out and will reevaluate this later.
It has a "Link to Twitter" as well. I recommend you link both.
In the past I have advised others not to link Facebook and Twitter. The reason is that if I am following you on Twitter and Liked you on Facebook, I don't want to read the same thing twice. After awhile, this gets tedious and I unfriend you. It's too much of the same information, especially if you are not interesting!
Pinterest's feed or wall is very fluid especially when you are following a lot of people. So you probably won't see the same thing twice. By pinning something which then posts it to Facebook or Twitter, you'll end up enticing others to see what you pinned. Otherwise they might miss your pin.
Lastly, I recommend keeping your visibility on, so that search engines will find you!
Don't forget to hit save!
What the Heck are Boards?
Remember that Pinterest is like a bunch of inspiration cork boards but digital. No actual thumb tacks needed. Plus you get to have several boards so there is no worries if you have no wall space!
Pinterest will give you some boards to get you started. You do not have to use these. You can edit the name of the boards or create new ones here.
Then click on the Board you wish to change.
Then click on "Edit Board"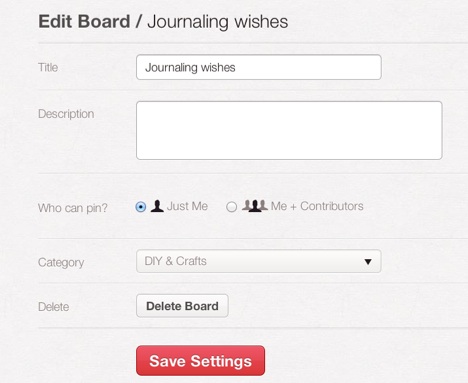 This is the panel where you can change the title, give a description if desired, decide if you'll allow other people to "pin" things to the board, and then select the category you want it to show up in.
Architecture
Art
Cars & Motorcycles
Design
DIY & Crafts
Education
Film, Music & Books
Fitness
Food & Drink
Gardening
Geek
Hair & Beauty
History
Holidays
Home Decor
Humor
Kids
My Life
Women's Apparel
Men's Apparel
Outdoors
People
Pets
Photography
Print & Posters
Products
Science & Nature
Sports
Technology
Travel & Places
Wedding & Events
Other
Don't forget to hit "Save Settings" when you are done.
Why Would You Want to Select "Me+ Contributors"
A great example is the Exceptional Metal Clay Art. This is a board started by an artist to support other artists. She invited 6 other artists to be joint administrators on the page. This means they can add new "pins" of work to share with others.
This expands the reach of the board. It also becomes a community endeavor.
This is a great idea for those wanting to plan a wedding, party, event, etc. Or even a way to work with your interior designer, stylist, etc. Share your finds with each other for your project.
Which Category Do I Select and What Are These Categories?
The categories listed above are different pages on Pinterest. So when I sit down to peruse Pinterest I go here first:
This will show you what everyone is currently pinning. This is your feed or wall. You can scroll and scroll down looking at images and descriptions.
Then I always check out certain categories by clicking on the drop down menu "Everything" (see list above for full list). This is great if you are interested in home decor, fitness, holiday ideas, technology, fashion, etc.
"Videos" will show you videos that have been pinned. "Popular" are the most often repinned pins.
"Gifts" will show you items that are for sale and the price. This is great if you are interested in buying something or even selling your work. I recommend you use this sparingly with your own work. No one likes someone who is always saying "buy this from me".


However, I would occasionally show something you have for sale and try to do it in the different price points to show your range of availability. This is simple to do, just include in the description the $ and the price. It will automatically put a banner across the photo.
What If I Want To Rearrange My Boards?
It's easy peasy to move your boards so they make sense. It's just drag and drop. Just make sure you save your changes!
How The Heck Do I Pin Things To Boards?
You are on Anthropologies site and you find shoes you love. You want to add them to your board and share them with friends. What do you need to do?
First, you need to install the "Pin It" pinbutton to your computer. Simply go to http://pinterest.com/welcome/pinbutton/ and follow the simple instructions. This will allow you to put it on your bookmark bar like this for easy use anytime you find something cool:
Next, while you are on Anthropologie's page of shoes, you first click the "Pin It" button and this pops up showing all the images from this page:
When you hover over the one you like, this appears:
Click the "pin it" blue badge and this appears:
You get to decide which board you want to "pin it" to and what description you want to give. Then hit the red "pin it" badge.
Pinterest will then confirm that you have made a pin and ask if you want to see it.
What if You Have a Picture You Want Pin?
If you have a picture on your computer you would like to pin here are the steps:
Go to the menu bar on the upper right side and click on "add+"
           
When you click the "add+" button this pops up:
       
Click "Upload a Pin"
           
Select "Choose File" and select the photo you wish to pin
Select the board you want to pin it to
Type the description or hooky note
          
Click the red "Pin It" badge
How Do I Put Pin It Badges on My Blog, Website, Or How About an App for My Phone?
Simply go to this great and easy to follow url where Pinterest takes you step by step through the process:
http://pinterest.com/about/goodies/
You will want to add this to your ezine or email newsletter, your blog etc, so people can connect and follow you! You will even want to provide or install a Pin It button for each blog you write so if someone finds it interesting they can pin that as well.
How Do I Follow Other People?
First when people follow you, you will be sent an email asking if you'd like to follow them back. Simply click on that link and it will automatically add them to your list of follows.
You can go to your page and on the left hand side under your profile it will list your feed of who is repinning you or following you. I will often go to their page and follow some of their followers:

Click on "following" or "followers" and it will produce a list:
You can then click the "Follow" red badge and you'll be following those people.
Or you can go to the main Pinterest page and click on a person that you are following who is following another and pinned their image:
Then go to that person's "following" or "followers" list and select 5-10 people to follow. You never know, they may end up following you back:
Do I Follow Them Or Just Their Boards?
If you want to just follow one of their boards that is fine. I prefer to follow all of their boards not just select boards. I can't imagine a reason not to follow all of their boards. You can always unfollow them if they are posting too many images. There is a Follow and Unfollow button at the bottom of every board and under the profile image. They are not sent messages if you unfollow so do what makes you happy!
How Do I Interact With Others?
There are 3 main things you can do to engage and interact:
Repin.
This is my favorite thing to do. It's endorsing someone's photo and shares the love. It shows them that you liked it enough to share it.  You can select the board you want to put it on. Then follow it up with either keeping the same description that person had, or go ahead and describe it yourself. I always write my own thoughts on my repins. It's part of the fun.

Like.
This is pretty straight forward and something that is familiar with Facebook.
Comment.
Again, straight forward and not very common. However if it's not something you would like for one of your boards, but you enjoyed it, why not let that person know. It's the ultimate thumbs up!
What Else Can You Do That's Pretty Darn Cool?
I love how you can be exposed to other blogs and websites you would have never found any other way. I have learned all sorts of recipes, household tips and tricks, new suppliers, cool project ideas, workout strategies, etc from Pinterest.
Click on the image you like:
Which then opens it on a separate page.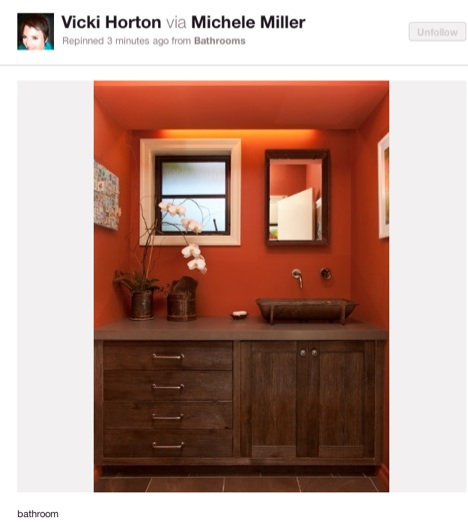 Then click on the image again (second time):
Now I've found a new site called Addicted2 Decorating where I might get other ideas for a bathroom project I have.
How cool is that!
So do you see that the more you Pin interesting things from your site or your blog the more traffic you drive to your site. You share yourself with others in a way that is not salesy and they get to know, trust and like you. You never know, this could be your next big collector or client!
Why Else Would You Want To Be On Pinterest?
to meet other people (Know, Trust, Like)
to support others and possibly collaborate (guest blogging, co-promote)
to enjoy beautiful things and share beautiful things
to get great ideas and share great ideas
to develop your brand
learn something new – skill, recipe, how-to
to be inspired
to share value and make yourself interesting (Know, Trust, Like)
use it as market research
My best advice is to take part in Pinterest but to set a timer. It can be addicting at first, like a new toy. That's okay as long as it doesn't steal additional time away from your Creative Action Time.
So get out there and let others get to know you. People buy from those they Know, Trust and Like!