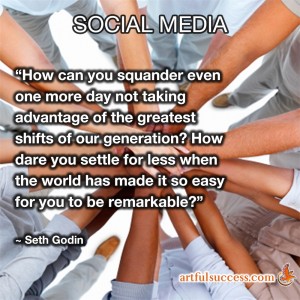 Yep, I bet there's more than a few of you that don't under stand why anyone would want to send a Tweet, Pin a photo on Pinterest or tell someone what you are up to on Facebook. Boring right! Who cares what you ate, what you bought, or who you are with tonight.
I can totally understand why you might be thinking this, but what if I told you that you were missing out on BIG stuff!
What if I told you that it's easy to Get Social!
I want you to think about who you buy from. Do you buy from companies you've never heard of through any sort of referral or advertising. For example, you have a need or desire to buy a new purse. Do you open Google and put in purses or do you *first* recollect a referral (a friends purse you liked), or a purse you saw in a magazine, or on tv?
People do not buy from those they do not know, trust or like. However, the days of hanging out at the grocery store, at the local cafe, or the mall to meet others are over. Approaching complete strangers just to introduce yourself and find out more about them might even get you arrested, screamed at, or worse. Stranger Danger!
Today we are spending more time in our own environments. The comfort of our home, office or anywhere we have cell or wi-fi. The internet is convenient, powerful and stimulating. Why not take advantage of those opportunities for your business and find others that you can get synergistic and social in a supportive way!
5 Reasons To Get Your Social Buzz On!
People do not buy from strangers; those they misjudge or mistrust.

I click on an Etsy site and I see beautiful jewelry. However, there is no name, no photo of the seller or artist, no real concrete info. I can't connect to anything but the visual and there just isn't a story there to engage me. Guess what? I click to another site or page.

I also don't trust ordering from "Beady Bling". Who are they? I can easily jump to conclusions like "Maybe they don't want to put their name up there because they don't want me to know who they are. I bet they won't send me the goods. How will I find them later? "

Maybe they took a horrible photo of themselves or their banner is so outdated and slapped together. So I ask myself "will their jewelry be slapped together and hold together. Are they going to be around when the jewelry breaks?"

Credible and Reputable Artists Attract Buyers/Collectors

A gallery owner happens to stumble on your site. They are looking for credibility in your art and YOU. This might mean quality of materials, technique, and knowledgeable use of said tools and materials.

They are looking for someone that is established and respected. Not necessarily famous, but that if one of their customers started to collect your work or a magazine ran an article about you, would they find you are a person of interest?

People are more willing to spend money with someone they recognize as part of a bigger community, someone with credentials, and a cohesive about page.

Expand Your Presence and Your List

I bet you have at least 20 friends that have seen your work right? Well how about 200, 2,000, or 20,000?

The more times your work is seen not only on your site, but more importantly on other peoples sites it become more recognizable. It's even better when it is shared, which is an endorsement or referral! It then registers as branded work.

Social Marketing allows you venues that are free where you can expose your work, your ideas and your friendship to thousands of others. It is a place where you can get feedback, test new work, and collaborate with others. Use it fuel your momentum.

Provide Value to Others

By sharing valuable information (tips, links to interesting articles, etc) YOU become interesting to other people. They want to know what else you have to say or share.

Maybe you are good at finding interesting art on the web. Share it! People love to be inspired. Or maybe you belong to a recipe club and you cook good food. Share it! It doesn't have to have anything to do with art.

Actually people get sick of seeing your work, hearing about your awards, and your classes, if that is all you share. Sprinkle interesting things about YOU in your posts. Show us pictures of where you've been, your pets, your nature walk, fun textures, etc.

Make yourself interesting! Let us get to know you.

Keep Your Pulse on the Market

Social media is the absolute #1 source for what's new, hot, interesting and trending.

Want to know the hot new show everyone is raving about, the tool that makes you more efficient, or the deal a vendor is having? Then you need to be on Facebook, Twitter, Pinterest, Linkedin, etc.

You miss out on opportunities if you are only reading forums and magazines. Books are 2 years old when they come out and magazine articles can be 1-2 years old as well.

Your business also need to BE on social media sites. Give it a voice. A place to give credibility and share your pulse with the market.
Don't forget to leave a comment and get entered to win a F*R*E*E give-away from Whole Lotta Whimsy! Drawing is February 15th, 2012!