The last ezine feature 5 Great Tips for Working With Metal Clay.  It got such great response, that I thought I'd showcase 5 of our most popular items, why you'd want to use them (in case you haven't tried them).
Many thanks to Maggie Bergman for showing our industry this fantastic tool!
Photopolymer plates allow you to make your own custom textures or stamps. You can make one in about 10 minutes with your initials, logo, special texture you designed, clip art (copyright free designs of course), etc.
It's a low per item cost of about $1.70 for a 2" square piece of material.
You will need a small amount of startup items (glass sandwich, UV light, nail scrubbing brush) which will cost you about $45 total and can be used for about 40-60 applications before needing nominal maintenance (bulb change).
Why the PPP over the clear ImagePac material?

PPP is a harder material and will not move, ghost or squish when trying to make an image in your clay. It's going to be the same thickness throughout after exposure where the liquid sachets often are not. It is not sticky after the final cure compared to the gel clear photopolymer. It is less expensive. It can be used in a hydraulic press to imprint foil for enameling and will take high temperature applications.
We even have a complimentary 10 minute video showing you how to do it from start to finish.
These inexpensive .20 items are one of our best sellers. They are great for your bench or for travel to keep the syringe from drying out once you open it.
Put water in it, use your craft knife to make the top hole just a little bigger if needed, and then insert your syringe.
There are other items that also do the same job if you want to pay $14.80 more, but why not spend that on more tools. A set of 4 of these upright in a coffee cup will work just as well.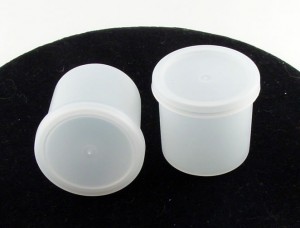 These containers have been our best sellers for about 8 years strong. Why? They will keep just about any material moist for years. Nothing leaks out of them when they are full of water either.
When I taught I would take all the syringe tips and throw them in one of these with water and they traveled perfectly even if they turned upside down etc.
Perfect size for clay, paste, paint, and more for only .90 each!
These fun rubber molds make those popular domed discs in metal clay and polymer clay for about .25 a piece.
Roll out your clay, cut out a circle using a template, pattern cutter or by hand, and then drape the clay over the form. Let dry and remove. Sand down the edges and then use in your work!
I've seen instructors such as Robert Dancik, fill the insides with concrete and other objects and use it as an inexpensive pre-made mold for other forming other materials too!
We tried buying other reputable dealer's shelves to resell but never felt the quality was there. So about 6 years ago we began carrying our own WLW processed shelves.
Why are ours different? We cut them so they fit perfectly in the jewelry kilns. We then spray a special rigidizer on them of which we don't skimp (it's expensive stuff). We spray both sides. Then we fire them not once, but twice, so you don't have to have those terrible fumes in your studio.
I've been told they are not toxic but I once fired them in my studio while I worked. My eyes watered, my throat itched and sure smelled toxic. So we've now got what is loving referred to as the black kiln.
Why should you use a Hard (ceramic) Fiber Shelf versus a hard-ceramic Corderite kiln shelf? Well even the President of Paragon will tell you that the heavy Corderite-type shelves are great for glass, ceramics, and other materials but not suitable for metal clay.
Why? Well they are a heat sink. The heat goes to the shelf and not the pieces until the shelf reaches the top temperature. It is so large and dense that it can create hot spots under your piece causing warping, it hold the temperature for a very long time, and they are heavy.
Stick with the fiber-type shelves even though it's tempting to go with the hard ceramic because they last longer.
Don't forget, never carry the shelf from the corner, and always from the side. Otherwise one day you'll carry your most treasured creation to the kiln, the shelf will snap and the pieces will fall to the floor.
These kiln shelves last about 15-30 firings. As you fire them repeatedly the binder burns out and they become more brittle.